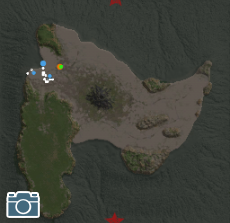 Tierra de la Venganza (Land of Vengence) is an island in Tropico 4: Modern Times.
This island is vaguely shaped like an axe, with a "handle" consisting of lush, green mountains and a "blade" of barren flat land and beaches. All of the useful farm land is in the handle part and all of the minable resources are located in the blade, directly at the base of a powerful volcano that threatens the entire north half of the island.
Mineral deposits
Edit
This a breakdown on the different resources that are available on this island. The resources that are listed are not renewable with the exception of salt, which never depletes.
| Resource | Quantity |
| --- | --- |
| Bauxite | 3 |
| Gold | 2 |
| Iron | 5 |
| Oil | 2 |
| Salt | - |
Ad blocker interference detected!
Wikia is a free-to-use site that makes money from advertising. We have a modified experience for viewers using ad blockers

Wikia is not accessible if you've made further modifications. Remove the custom ad blocker rule(s) and the page will load as expected.