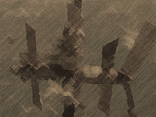 Space Station MIR is a Timeline Event that can occur between 1988 and 1990.
While the event is happening, the commodity price of electronics increases by 25% as the USSR begins buying massive amounts of electronics to build the space station.
Mir was a space station that operated in low Earth orbit from 1986 to 2001, owned by the Soviet Union.
Ad blocker interference detected!
Wikia is a free-to-use site that makes money from advertising. We have a modified experience for viewers using ad blockers

Wikia is not accessible if you've made further modifications. Remove the custom ad blocker rule(s) and the page will load as expected.