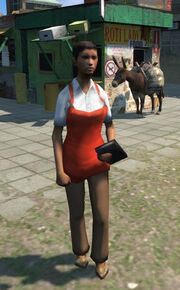 Shopkeepers are high school-educated women who stock and sell merchandise in stores. The higher the shopkeeper's skill is, the better the service quality is where they work.
Shopkeepers work in marketplaces, supermarkets, souvenir shops, shopping malls, and the gift shops of childhood museums.
Experience in being a shopkeeper or journalist is required for women to become the Minister of the Economy. Men need experience in being either a banker or customs officer.
Ad blocker interference detected!
Wikia is a free-to-use site that makes money from advertising. We have a modified experience for viewers using ad blockers

Wikia is not accessible if you've made further modifications. Remove the custom ad blocker rule(s) and the page will load as expected.