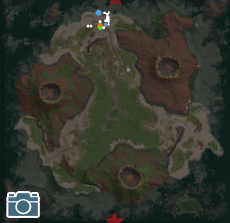 Piedra Island (Stone Island) is an island in Tropico 4: Modern Times.
The most striking thing about this island is the presence of three volcanos, leaving no inch of the island safe from lava flows. As if aware of the danger, the forests in the center of the island grow in concentric circles that resemble a bullseye. The island is naturally covered in stones, rocks, and minable ores, but the only sources of oil are two small underwater deposits. There are a series of stone huts and an ancient ruin located just south of the settlement.
Mineral deposits
Edit
This is a breakdown on the different resources that are available on this island. The resources that are listed are not renewable with the exception of salt which never depletes.
| Resource | Quantity |
| --- | --- |
| Bauxite | 14 |
| Gold | 5 |
| Iron | 12 |
| Oil | 3 |
| Salt | 4 |
Ad blocker interference detected!
Wikia is a free-to-use site that makes money from advertising. We have a modified experience for viewers using ad blockers

Wikia is not accessible if you've made further modifications. Remove the custom ad blocker rule(s) and the page will load as expected.