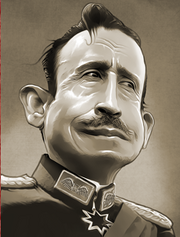 The Loyalists are an internal faction in Tropico 3: Absolute Power and Tropico 4.
Loyalists are personally enamored with Tropico's leader and want everyone to feel as they do. To this end, they push for anything to do with the hero worship of El Presidente.
Strangely, despite their fondness for the presidente, even the most die-hard loyalists can still vote against them, run against them in elections, or turn out to be crime bosses, spies, or other antagonists in the game's campaign.
Membership
Edit
Doubt in the Leader - Disillusioned over the presidente's lack of self-importance, followers of the neglected cult of personality will begin losing support and dropping out of the faction.
Ad blocker interference detected!
Wikia is a free-to-use site that makes money from advertising. We have a modified experience for viewers using ad blockers

Wikia is not accessible if you've made further modifications. Remove the custom ad blocker rule(s) and the page will load as expected.