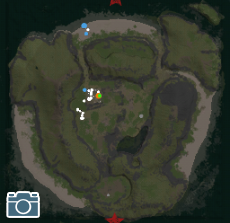 Isla Desconcida (Unknown Island) is an island in Tropico 4.
Most of this island is blocked off by unassailable mountains and rocks, forcing most construction work to be done on the beaches or in the flat valley in the center of the island. However, despite the need for space, the island has three houses and seven shanties instead of the usual single tenement. The island also has both unique buildings; ancient ruins to the east and a colonial fort to the south.
Mineral deposits
Edit
This a breakdown on the different resources that are available on this island. The resources that are listed are not renewable with exception of salt that never depletes.
| Resource | Quantity |
| --- | --- |
| Bauxite | 1 |
| Gold | 1 |
| Iron | 2 |
| Oil | 4 |
| Salt | 3 |
Ad blocker interference detected!
Wikia is a free-to-use site that makes money from advertising. We have a modified experience for viewers using ad blockers

Wikia is not accessible if you've made further modifications. Remove the custom ad blocker rule(s) and the page will load as expected.