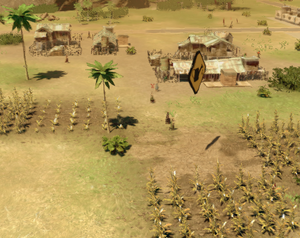 Droughts are a disaster that occur in Tropico 4 and Tropico 5. Droughts are periods of intense heat with little to no rainfall, causing plants to dry up. This disrupts farming on the island, since entire fields of plants will die without water. The effects of droughts can be somewhat offset by imposing water use restrictions, which costs some money and causes a bit of unpopularity across the island. Any fields that dry up will revive over time but they can also be brought back quicker by spending $400 to helicopter in a supply of water. In Tropico 5, it is possible for a drought's scorching heat to set buildings on fire.
Like any disaster, droughts can be disabled by running a sandbox game with no random events.
Disasters
Drought4,5 • Earthquake3,4,5 • Fire4,5 • Hurricane3,4,5 • Oil Spill4,5 • Tornado4,5 • Tsunami4,5 • Volcano4,5
3: Tropico 3 • 4: Tropico 4 • 5: Tropico 5
Ad blocker interference detected!
Wikia is a free-to-use site that makes money from advertising. We have a modified experience for viewers using ad blockers

Wikia is not accessible if you've made further modifications. Remove the custom ad blocker rule(s) and the page will load as expected.