The Drone Command is a building in Tropico 5: Espionage. Once built and supplied with 300 megawatts of power, the building sends out drones that automatically eliminate anyone with a kill order, including Rebels, Crime Lords, or Foreign Spies.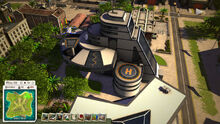 Upgrades
Edit
Accidental Strikes- Drones eliminate the citizen with the lowest approval, when there are no Rebels or Foreign Spies are around.
Although the Drone Command is used for Military purposes, workers are not soldiers, but are Police officers.
Citizens that are killed by drones are labeled 'Cause of Death: Violence', which does not increase Unrest, unlike citizens killed by firing squad (labeled 'Cause of Death: Kill Order') which does increase unrest.
Ad blocker interference detected!
Wikia is a free-to-use site that makes money from advertising. We have a modified experience for viewers using ad blockers

Wikia is not accessible if you've made further modifications. Remove the custom ad blocker rule(s) and the page will load as expected.