For the faction in Tropico 5, see Communists (Tropico 5).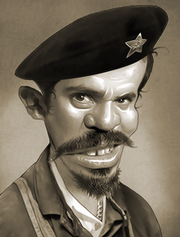 The Communists are an internal faction in Tropico 3 and Tropico 4.
Communists are concerned with Tropico's welfare and quality of life, desiring basic essentials like housing, food, and healthcare for all of the island's citizens. On average, the Communist faction is the largest faction in Tropico, typically only matched by the Religious.
How you treat your island's Communists affects your relations with the USSR.
Membership
Edit
Rebel Incursion - Angered by the plight of the common people on the island, Communists from around the world will travel to Tropico to join the rebels in their fight against you.
Ad blocker interference detected!
Wikia is a free-to-use site that makes money from advertising. We have a modified experience for viewers using ad blockers

Wikia is not accessible if you've made further modifications. Remove the custom ad blocker rule(s) and the page will load as expected.