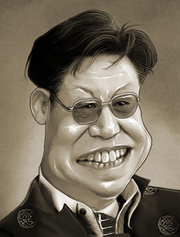 China is a minor power in Tropico 4.
Although officially a repressive Communist state, China tends to experiment with free markets and other Capitalist concepts and appreciates others who "mix and match" both economic ideas. With its massive population, China is always seeking new sources of basic food and places for its people to live. The nation is Tropico's sole source of Luxury Goods.
Buys
Canned Fish
Canned Pineapple
Cars
Cement
Corn
Goat Cheese
Llama Wool
Sells
Fish
Luxury Goods
Salt
Sugar
Tobacco
Likes
Dislikes
The Velvet Revolution rise to power.
"'No Immigration'" immigration policy (Bugged: Appears when your immigration policy is set to 'No Emigration,' the policy which forbids people from leaving Tropico, instead of 'Tropico First,' the policy which forbids people from arriving.)
Rewards for Good Relations
Increased price of Canned Goods
Decreased cost for Luxury Goods
The ability to ask for development aid.
Ad blocker interference detected!
Wikia is a free-to-use site that makes money from advertising. We have a modified experience for viewers using ad blockers

Wikia is not accessible if you've made further modifications. Remove the custom ad blocker rule(s) and the page will load as expected.