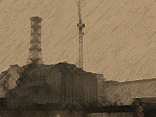 The Chernobyl Disaster is a Timeline Event that can occur between 1986 and 1989.
While the event is happening, the commodity price of uranium increases by 100% as nations are reluctant to use Nuclear Power.
On April 26, 1986, workers at the Chernobyl nuclear power plant switched some of the plant's safety controls off in order to test the safety of the reactors. When a power surge hit, the workers lost control of the test and the reactor exploded, starting a fire. Since there was nothing to contain the radiation, radioactive fallout was released into the atmosphere where it was spread across eastern Europe. The full extent of the disaster's damage remains unknown to this day and it is considered the worst nuclear accident in history.
Ad blocker interference detected!
Wikia is a free-to-use site that makes money from advertising. We have a modified experience for viewers using ad blockers

Wikia is not accessible if you've made further modifications. Remove the custom ad blocker rule(s) and the page will load as expected.